Get the Search Engine Visibility Your Site Needs to Drive Traffic and Increase Sales!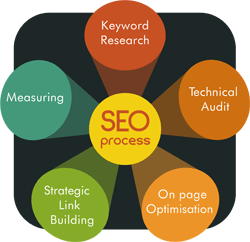 Search Engine Optimisation is the smart way to grow the revenue generated by your website.
Drive targeted traffic to your site.
Target the keywords that will give you the best ROI.
A cost effective and sustained way to increase sales.
Transparent and open approach.
Whether your goal is to generate more enquiries or increase sales, Search Engine Optimisation (SEO) is the cost effective solution to increasing the visibility of your website.
Driving relevant, targeted traffic to your website is paramount if you are to maintain an online presence. Appearing top of the search engines for as many relevant search terms as possible will significantly improve the amount of quality traffic to your website.
Our unique approach to keyword research ensures that you target only the keywords that are going to give you the maximum Return on Investment (ROI).
Don't be left in the dark – An open office and transparent approach means that you will always know what is going on with your campaign, whilst monthly reports and regular contact allows you to monitor and track the progress of your investment.
We have clients exceeding a 25x Return on Investment. Can you afford to be losing out to your competitors on that level of business?
"When I first started working with Boom the only traffic to my site was from existing customers. Now, my site is top for many of my keywords and around 75% of traffic to my site is from organic search engine results. They are always coming up with new ideas on how we can improve our visibility, and are always happy to give advice.

Boom are amazing to work with, they listen to what you want and need for your business and work with you to achieve that, and then once that is achieved new goals are set. I would recommend them at the highest level for both performance and customer service. An excellent choice."
Jenny Gunning, Ironbridge Fine Arts & Framing
Call the Boom team now and start generating sales today! 0845 474 0974