Be Seen and Heard With Strategic Instagram Ad Campaigns.
We're proud to offer an extensive range of services, including PPC advertising, social media management, social media marketing, and now, Instagram ads.
Instagram has become one of the most popular social media platforms in the world, with over 1 billion active users each month.
So, if you have a business page or an Instagram shop, we can leverage Instagram ads to help you really tap into this waiting audience and tick all the boxes of your digital marketing goals.
Large & Engaged Audience
With over 1 billion active Instagram users each month, the platform has a high post engagement rate and dedicated followership, meaning it can be the perfect marketplace for B2C businesses.
Users spend an average of 28 minutes per day on Instagram, making it an excellent platform to run ads and connect with your audience.
Visual Platform
Instagram is a visual platform, and businesses can use this to their advantage by creating content that resonates with their audience such as photo ads and video ads that can be promoted on both the news feed and in Instagram Stories.
Instagram's algorithm prioritises visually appealing content that encourages interaction. So having high-quality images and videos that resonate with your audience can help increase your reach and engagement.
Targeted Advertising
Instagram allows for detailed targeting of your ads based on various factors, such as demographic, interests, behaviour, and location.
This allows you to reach your ideal audience, increase the chances of link clicks and ultimately, converting them into customers.
Return on Investment
An Instagram advertising campaign can be a very cost-effective method of paid advertising, and as you can set a budget for your ads, it means they're an accessible option for every business, no matter how big or small.
You only pay when someone clicks on your Instagram ad, and you can also set a maximum bid for your ads to ensure that you don't overspend on your advertising budget. Allowing you to take complete control of the growth pace.
Analytics & Insights
Though Ads Manager, Instagram provides businesses with analytics and insights such as post engagement, link clicks, ad type, event responses, budget and schedule.
This insight allows you to track the performance of your Instagram ads and ensure campaign objectives are being met, as well as allowing you to make fully informed decisions about your Instagram advertising strategy moving forwards.
Why choose Boom as your Instagram Ads partner?
Setting up your first Instagram ad campaign can be nerve wracking.
But we're here to take the pressure off by helping you navigate everything from developing your campaign objective, to choosing Instagram ad formats and ensuring you're targeting the right audience with the right budget and schedule.
Experience & Expertise
Our team of paid social experts have years of experience creating campaigns and managing Instagram ads for businesses in various industries.
We stay up-to-date with the latest Instagram advertising trends and algorithm updates – ensuring that your new campaign is always fully optimised for success.
Customised Strategy
We understand that each business is unique, and we create a customised Instagram advertising strategy tailored to your business's goals and campaign objective.
Before we begin advertising, we'll conduct thorough research on your chosen demographic, competitors, and industry trends and audit your Instagram account to ensure that your Instagram ads appeal to your custom audience and drive the results you want, on time and on budget.
Targeted Advertising
We use Instagram's powerful targeting options available in Ads Manager to ensure that your ads are seen by the right people, at the right time for the right price.
If you're new to the advertising platform, we can help you build a persona for your ideal customer by drilling down into what will matter most to them and how that aligns with your business.
We can then use this to target your Instagram ads and build your custom audience based on a number of factors, such as demographics, interests, behaviour, and location – this detailed targeting will help increase the chances of converting browsers into buyers.
Cost Effective
We understand the importance of sticking to your advertising budget and we'll discuss your campaign budget and how much Instagram ads cost before we begin developing your ad campaign.
We'll ensure that your Instagram Ads are as cost-effective as possible and bring in the maximum return on your investment. Whether you're wanting to generate more leads, built traffic to your website or close more sales, we'll optimise your ads to achieve the best results while staying within your daily or lifetime budget.
Analytics & Reporting
We provide regular analytics and reporting to track the performance of your Instagram ads.
We will use the data provided by Instagram analytics to make informed decisions about your advertising strategy and make suggestions to ensure that you are getting the best results from your daily budget.
Excellent Customer Service
We believe in providing excellent customer service to our clients. We are always available to answer any questions Instagram Ads or concerns you may have, and we provide regular updates on the performance of your ads.
Your Questions Answered…
How Do Instagram Ads Work?
Instagram Ads are created through Facebook Ads Manager that's connected to your Facebook business page (if you have one) and your Instagram account.
In Ads Manager, you can create an Instagram ad and choose your custom audience, build out the ad scheduling as well as choose whether to run ads across different platforms.
You can also set a budget for your new ad campaigns and choose the ad format, such as photo ads, video ads, carousel ads, and stories ads.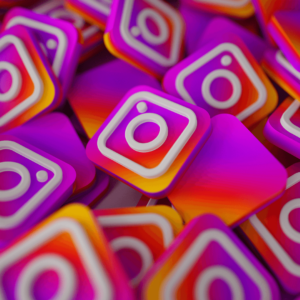 What Types of Instagram Ads Can I Create?
There's various Instagram ad types and we've listed some of the most popular ones below.
How Much Do Instagram Ads Cost?
The cost of Instagram Ads varies depending on various factors such as your target audience, campaign objectives, ad format, bidding strategy, and competition.
You can set a daily budget for your ads and choose a bidding strategy, such as cost-per-click (CPC) or cost-per-impression (CPM)..
How Do I Measure the Success of My Instagram Ads?
Instagram Ads Manager provides businesses with analytics and insights, allowing you to track the performance of your ads. You can track metrics such as reach, impressions, engagement, clicks, and conversions.
You can also use third-party tools to track your Instagram Ads' performance.
How Can Instagram Ads Help My Business?
Instagram Ads can help your business in various ways, such as increasing your brand awareness, increasing the amount of followers on your Instagram account, driving traffic to your website, generating leads, and increasing sales.