What is creative content marketing?
Creative content marketing is the art of producing visually-appealing pieces that people want to talk about.
The ultimate aim of this is to deliver brand awareness, build customer engagement and improve visibility in search engines. Creative content offers a powerful boost to your content marketing strategy.
Creative content marketing can exist in a variety of forms, whether it's videos, branded content, illustrations to support a blog post or an infographic based on research and data — so long as it's engaging and shareable. Creative content is a great way to help build links for SEO and get your business noticed online through Digital PR.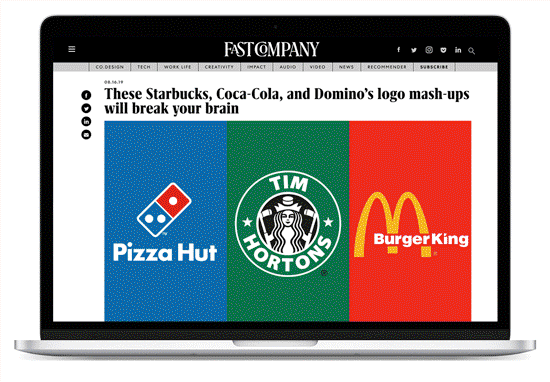 Our clients have been featured in

Here's a little of what we do…
As a content marketing agency, we've created a whole host of exciting campaigns for various clients and brands. Here are some examples of our creative approach.
What makes great content?
To put it simply, quality content will engage your audience, showcase your brand and communicate well. Good content may get read and maybe even shared on social media sites. But great content will be talked about. The key is to create content that starts a conversation.
For a piece of creative content to be successful, you need to know your audience. That's why every new content project starts with research; about your business, who your current and potential customers are and what the competition is up to.
How we create your content
Once we know a little more about how your company operates, we'll start exploring ideas that will attract the right kind of attention from your target audience. We'll define a creative strategy and develop concepts to suit your goals.
Any ideas will be passed through the strict criteria outlined in our content strategy "success" formula to give us a clearer picture of how successful they're likely to be. The chosen idea will be researched and developed, all the while consulting with you to make sure our ideas fit with your business goals.
Our designers love content creation and will design custom images for your campaign. We'll work with your branding to produce content that reflects your culture. Our creative team will make sure the final piece is simple, relevant and universal to give it a great chance of success.
Simple
If you can't explain your content with a simple sentence, it's less likely to be shared and its success will be limited. That doesn't mean we can't tackle complex subjects, but if your audience "get it" straight away, you're off to a flying start.
Relevant
For maximum success, creative content has to be engaging, related to your industry and well-executed. At Boom, we've got this down to a fine art. No matter what your industry sector is, we'll create something special that's right for you.
Universal
Even if you target a particular audience, keeping things simple and compatible with your company mission will mean that more people are able to understand your content and get something from it, bettering your chances of wider coverage.
Why choose Boom as your creative content agency?
Let us help you tell the best stories, position yourself as a thought leader and have some fun along the way! Content marketing is time-consuming and requires varied expertise, and that's where we can help. We've created content for a wide range of businesses and the results speak for themselves.
Whilst we're not a full-service creative agency, we are digital marketing experts. We understand SEO, social media and how creative content can be used as an important part of your digital marketing strategy. We're not an advertising agency and traditional media isn't our thing. There are other ways to get your message out these days and that's what we're all about. We're a successful digital creative content agency that's affordable too, so get in touch to find out more. We'd love to help you win new business with creative content.