BrightonSEO 2014: A Round-Up
On Wednesday night of last week, Wayne, Rebecca, Alison and I boarded a train to Brighton for our first ever trip to BrightonSEO! When we arrived it was raining – typical British seaside, but we quickly found our way to the hotel and settled in. We grabbed some food before a quick detour to see the sea and on to pre-conference drinks at The Smugglers (which, sadly, isn't a pirate-themed bar).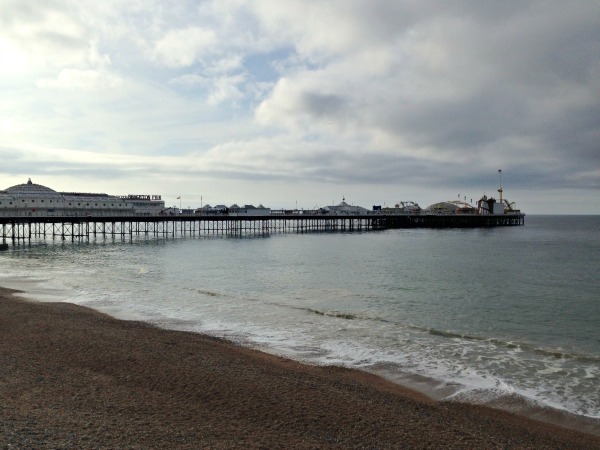 The pre-drinks were the perfect opportunity to relax after our journey down, and also gave everyone a chance to catch up with other attendees, practice our drinking, and play some pool: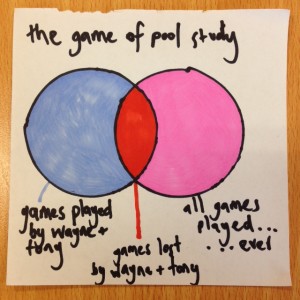 The next day was glorious sunshine (the photo at the start of this post was taken on our run down to the beach at 8am) so we made our way outside during every break and went and had chips on the beach for lunch before a stroll along the pier – but that's not what you want to know about!
In amongst the sunshine, coffee and beers, we were lucky enough to watch a tonne of knowledgeable and talented people offering up advice, opinions and insights. Here's my round-up of the people we saw at BrightonSEO 2014. Where possible I've tried to include their slides, and there are even some incredibly technical graphs from our very own Wayne Barker too. Enjoy…
How I Earned Loads of Links by Ignoring SEO – Malcolm Coles (@malcolmcoles)
We started our brightonSEO experience by watching the Keynote presentation which was delivered by general manager at the Daily Mirror and master of Us Vs Th3m; Malcolm Coles. As you may have guessed from the title of his presentation Malcolm discussed how, by ignoring SEO completely, Us Vs Th3m consistently generates hundreds of thousands of natural links. Us Vs Th3m was launched as a social only project, meaning that no outreach is conducted for their content. It's all made and designed to be shared socially. Here are the top takewaways from Malcolms' presentation:
Most people will be reading your outreach on a mobile, so make sure that it's mobile-friendly! This means that if you're sending an infographic, it needs to be legible on a screen that's no bigger than 4 inches. If they can't read it on a mobile, you don't have a chance in hell of them publishing it; first impressions count! Before starting your outreach, look at your infographic on your mobile device. If you have to zoom and scroll to read it, then your prospects will too. Responsive HTML5 infographics would ensure that your content looks good on any device, improving your chances of placement.
Grab attention with a mysterious and interesting headline. Okay, this might not be the most ground-breaking takeaway ever, but don't underestimate the power of a great headline. If you're writing headlines for social engagement you need to make it enticing, and it's a similar story for the title of your outreach email too. Malcolm gave us this example: When You Find Out Who Rescued Santa's Sleigh When It Broke Down It Will Restore Your Faith In Corporate Britain. It's enticing; we want to know who saved Santa! It's mysterious; who saved him? It's emotive; the human element of "restoring faith" makes us want to click and find out the happy ending!
Facebook and mobile content are the same thing. That's right, when it comes to viral content Facebook and mobile are essentially the same thing. More people than ever are using Facebook on their mobile devices (smartphones, tablets, etc.) When you look at your Analytics data, it might look like Twitter is a bigger referrer, but in actual fact, Analytics doesn't show you all of the available Facebook data!
Some final, but very important thoughts:
Create content in a way that the publisher has to link to you otherwise their story won't make sense.
Think about your mum when sharing on Facebook – Swear words in a title are a no-no!
Mobile and social are the same thing.
The Habits that Earn You Links – Stacey Cavanagh (@staceycav)
After a quick break (coffee and a bit of a wander round outside), we returned to the Dome Concert Hall for the 'Earned' portion of the conference. Stacey began her presentation by confessing that she still loves links, even though the come with the potential for heartbreak. Links won't stop being a metric any time soon but the cheating has to stop. Instead, we need to be doing things that will land us links, namely:
Producing awesome stuff, doing awesome stuff, and being generally awesome
(like a dog wearing goggles with his head hanging out of the window of a moving car)
In order for this to happen consistently, we need to have clear processes in place to help move things along, and Stacey talked to us about three key areas to begin building good habits that will generate us links: ideation, asset generation, and outreach.
Ideation
The biggest challenge we face at the ideas stage is generating a constant stream of good ideas that we can tap in to for our clients.
Try a number of different ways to make your ideation process slicker, faster, and more productive. Stacey recommended giving Brainwriting 6-3-5 a go for this, which will allow you to generate 108 ideas in just 30 minutes. I won't get in to the full details, read the blog post for exactly what you need and how to do it. I actually tried this a few weeks ago for one of my clients and it definitely works with generating some ideas that you wouldn't have thought of otherwise. Yes, some of them are the same concept just in different incarnations, but it generated plenty of ideas from large interactive pieces to shorter blog posts. Definitely give it a go!
Don't stop there! Try verbal brainstorming.
We all work in different ways. Never underestimate the power of a verbal brainstorm for taking ideas from strength to strength. Just don't forget to keep those ideas safe!
Doesn't pass the NUF test? Get rid.
NUF testing scores each idea out of 30. You mark each idea out of ten for "newness", "usefulness", and "feasability". Anything that comes in under 20 gets scrapped, helping to sift the best ideas to the top of the pile.
Find someone who doesn't care about your feelings.
These are the best people to review your content ideas. They have nothing to gain, and nothing to lose from telling you the truth!
 Asset Generation
Your audits (content, asset, etc.) need to be a conversation. Forms are a chore and your client will do them as inaccurately as humanly possible.
Remember the last time you sent your client a form asking them what pictures they had, what contacts they have, whether they have any videos you could use and they came back to you with a "no"? That's because forms and excel spreadsheets are a chore. Talk to your client about their assests, you never know what you might discover (an incomplete catalog that never got published that has thousands of photos in it, for example!)
Don't forget about image link building, but make a process for it.
Image link building is incredibly simple and a great way to make the most of your clients photography assets. Have a Flikr account for each individual client and upload the photos as creative commons. In the description of the photograph, make sure you explain how to attribute the photo and then have monthly reclamation sessions where you chase up those who have used your images, but not credited the source.
Top Tip: Don't be arty with the names of your photographs. You've got a picture of a bridge in Manchester, call it 'Bridge in Manchester' so people can easily find it and use it!
If you're going to curate content, make sure you add a layer of value.
Don't just gather a load of links together when you're curating content, make sure that it has an extra layer of value for the reader. Take the Moz Google Algorithm Change History which collates all of the different Google updates in one place. This information is available straight from Google, but Moz have formatted it in such a way that makes it easy for us to cross reference with our Analytics data and read around each update. That's the value. That's why people keep coming back to this resource.
Think about offline content for winning over more difficult clients.
Going offline can generate links. Getting sign-off for bigger SEO projects can take a lot of convincing so get in to the other department's heads and find out what makes them tick. Stacey gave the example of a scrapyard whose CEO was heavily involved in charity events. They then asked students from the local university to visit the scrapyard and create a piece of furniture which would not only be useful for their final projects, but would later be auctioned off to raise money for a local charity. This project generated links from university and news sites, whilst raising money for a fantastic cause and encouraging buy-in for future projects.
Outreach
Build a little black book for every client.
Start doing this on day one with a contacts audit. Find out who has already written about you, who has mentioned you, who might want to write about you in the future and keep them in a safe place. Your list should be ever evolving so you can keep building relationships and contacts.
Never stop looking for opportunities.
Always be on the lookout for new opportunities. Who's supplying the reporters with their stories? It should be you…
Pay attention to the reciprocity rule.
Us humans like to be seen as consistent, so if we've expressed commitment for a topic before, then we're likely to commit to doing more for it when asked, such as sharing content!
Be disruptive.
We don't mean taking your clothes off in public, but a good old fashioned hand written letter disrupts our usual pattern of reading and deleting emails. It's more likely people will take the time to stop and read your letter if it's posted to them. So pick up your pen and get writing!
During the course of Stacey's presentation, Wayne was keeping a very accurate and in no way made up* track of the number of swear words used. Overall it was about a 60/40 split of swear words to non-swear words, as you can clearly see in the pie chart below: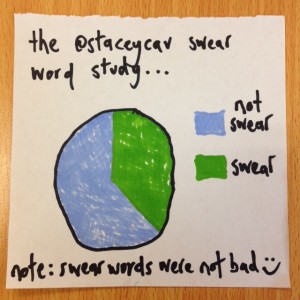 *Possibly a tiny bit made up.
Tips for Designing Great Content – Vicke Cheung (@VickeKaravan)
 I think this was possibly one of my favourite presentations from Brighton. I know it's an SEO conference, but getting the chance to see things from a designers point of view was really interesting for me, and Vicke's presentation brought some processes to my attention that I hadn't thought of before, but will definitely be implementing in the future. (Plus, her slideshow was so pretty!)
Vicke broke her presentation down in to two parts: nailing the process and tips for design. Here are the key points I took away from her presentation:
Nailing the Process
Take 30 minutes to get all of your design inspiration together.
Use 15 minutes to gather images. Google isn't always the best place to find images. Instead look to behance, dribbble, and patterntap for more beautiful, and varied, results. Pin your findings to a Pinterest board that's specifically been set up for your client and be as broad as possible with the images you find.
Use the next 15 minutes to refine and analyse what you've found. Comment on the pins about what you like and don't like about each piece. Don't forget that you can create a collaborative board and have the clients and designers involved at this stage too!
 The Brief
Make your brief as comprehensive as possible.
If there are brad restrictions such as fonts and colours, make sure that you include this in your brief. Will it be living within a blog or on a standalone page? Show where the content will exist as this will bring up other issues and restraints. Does it need to be responsive?
TOP TIP: Have a brief template so you don't forget the details.
Giving Feedback
Email is not the right medium for giving feedback on design.
Trying to explain that there's something not quite right about the element on the left about two thirds of the way down isn't helpful. Use apps such as RealtimeBoard to communicate and collaborate during the design process.
Quality Assurance Testing
Before you send anything to a client test, test, and test again!
Have thorough browser and platform testing in place. Your content might look amazing in your Chrome brower, but if your client uses Firefox and it doesn't render correctly, you have a problem. Use browserstack or responsinator.com to test before you send!
 Tips on Design
Images
Need to be emotive and atmospheric.
Avoid "stocky stock photos" they look terrible and reflect badly on your brand.
Use stocksy if you have the funds, or Flikr for creative commons images.
Consistency is key! Custom design where possible to guarantee consistency.
Social Images
Need to pack a punch and be well executed.
Let the image speak for itself.
Crop to your advantage – choose the most impressive element!
One size doesn't fit all. Start with a bigger image than can withstand cropping.
Cool S*** Stuff You Can Do With WordPress – Patrick Hathaway (@HathawayP)
Following Vicke was Patrick Hathaway of HitReach. Despite our attempts to psyche him out the night before, Patrick began by explaining that he is not a developer and, although we do need to be able to communicate effectively with developers, as an SEO we don't absolutely need to know how to code (even though it is helpful).
WordPress is the most popular CMS in the world, so the aim of his presentation was to make us aware of the possibilities of the technology we're using right now.
Automation
Patrick began his list of cool things you can do with WordPress with automation. If you have a client who constantly forgets to share posts and news on social media then you can do it for them automatically. How?
IFTTT (If This Then That) and Zapier are the two automation tools Patrick recommended. IFTTT allows you to set up a series of rules for pretty much anything. For example, if you post on WordPress then it will automatically be published on Facebook too, or every time your client publishes a new post, you or someone in your team can receive an email notification. (Wayne actually wrote an IFTTT recipe cookbook for the Boom blog last year which is definitely worth checking out if you need some inspiration).
Themes and Plugins
One of the reasons WordPress is so popular is because of its flexibility and the opportunities to expand and improve the basic template using themes and plugins. Patrick ran through a couple of content plugins that could come in very handy in the future, including:
SlickQuiz
Allows you to create quick and simple quizzes for your blog. It may not be the prettiest quiz you've ever seen, but it's great for creating something quick and interactive for fun, or for gathering serious data.
Parallax Themes
If you hadn't gathered from my previous blog posts, I adore parallax scrolling – when it's done correctly, it's gorgeous! Patrick used the example of NY Times beautiful Snow Fall: The Avalanche at Tunnel Creek to illustrate what can be done with parallax. Normally, parallax pieces require their own page so your content is unrestricted by normal blog navigation, but you can install WordPress under a specific directory and install a parallax theme which will allow you to create a true multimedia experience. There are 30 parallax themes to choose from here if you fancy giving it a go!
Patrick ever so kindly wrote his presentation up on the HitReach blog, so you can read it in it's full glory!
During the presentation Wayne was, once again, keeping an accurate track of the frequency of the appearance of "er" throughout the speaking time. Below, you'll find a graph which tracks the number of "er's" over the presentation time. The findings show that as the the presentation duration gets longer, the number of "er's" greatly decreases. Worth knowing for the future, hey!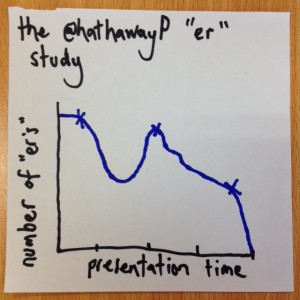 Do Links Still Matter in 2014? – Dixon Jones (@Dixon_Jones)
Don't panic, links do still matter but, as Dixon explained in his presentation – topicality is key, and influence matters.
Dixon challenged us to decide who was more influential on twitter – Lady Gaga or Barack Obama. There were a number of cynics in the room who though the the meat-wearing queen of pop was the more influential, but there was still a big sigh of relief when it was announced that Obama is ahead in the influence stakes – just. The point Dixon was trying to make was that context matters. If we were trying to work out who has more influence over teens who love pop music, then Lady Gaga would win. The point? One measure of influence is misleading, so you need to make sure you do your research and ensure that any links you are building are within context. It's this back link context that will set you apart from your competition.
Think Eyes… Not Just Keywords – Adrian Durow (@adriandurow)
The final presentation before the afternoon break came from Adrian Durow, founder of The ConversionArium.
A lot of people forget that we are advertising for clicks in the SERPs and instead are solely focused on positions. This doesn't have to be the case – position isn't everything if you've got AIDA on your side. Adrian explained that AIDA is what we should be focusing on when writing title and meta copy:
Attention
Interest
Desire
Action (or the click!)
There are several ways in which we can do this, and to further his point that position isn't the be all and end all, we were offered a couple of case studies to prove the point:
Hypothesis One: Domains get more attention than any other element of the SERP.
At Southampton Solent University eye tracking tests of the SERPs had been carried out and found that there were a large number of eye-fixating clusters around the domains. In fact, there was a 76% domain focus for the term "content marketing agency" which suggests that domain, and brand, are important when it comes to deciding on where, and who, we click on.
Hypothesis Two: Search listings with authorship markup are more powerful in attracting attention
In another test which looked at the effects of authorship and click through rates, it was found that authorship markup does attract attention, but not as much as we first thought.
The main things I took away from Adrian's presentation were:
Numbers in meta titles improve clicks (think 2, 13 and 24 rather than two, thirteen and twenty-four) as this manages expectations. You know what you're going to get when you click through.
Authorship is important, but not as much as you'd think – use schema.org markup to help draw attention!
Putting your keywords towards the start of your meta title will help grab attention and draw interest.
Using suggestive phrases such as award-winning' or 'world class' will address desire.
Always remember that your title and meta copy is an advert for clicks. Make it compelling.
How Journalistic Principles will Shape the Digital Marketing of Tomorrow – Julia Ogden (@JuliaOgden2)
After seeing how busy the Corn Exchange was for the 'Links' portion of the conference, after Adrian's speech we bagged our chairs, holiday-style, for the 'Content' track. After rushing out for a quick caffeine hit and five minutes in the sun, we settled down to listen to Julia Ogden, Head of Content at Zazzle Media. I read Zazzle's blog so was excited to hear what Julia had to say.
After being in print journalism for 20 years, Julia had some really interesting insights in to content production and publication. Her slides are above, and you can read the transcript of her presentation here but here's what I took away:
Start with the most important facts of all.
You want to grab attention and hook the readers in straight away.
Get the who, what, where, when, why and how out of the way early on.
Okay, maybe not out of the way, but most people stop reading after 250 words, so get all of the above in that first paragraph.
Be different.
What are people talking about and how does it tie in to what you have to say?
Think about the human connection.
Emotions are so important when it comes to engaging people with your content, make your readers feel something.
Avoid jargon.
It's self-explanatory.
Use quotes.
And make sure you get them right! If you've asked someone for a quote, make sure you correct any spelling and grammatical errors as part of your practice.
Write like you're talking to a friend.
But don't swear! Or be too casual…
Never write something you know to be untrue.
This is liable, and you can be sued!
Journalists need content marketers help, and the internet is just crying out for good, quality, content. Taking on some of journalism's principles will really help us on our way to doing just that.
 Stop Blind Marketing. Start Selling Through Content – Matt Evans (@DigiMatt)
Matt started his presentation by by announcing that we'd stopped stuffing Google with keywords and instead, started stuffing it with content. Rather than writing blog posts and designing infographics for the sake of it, he suggested that we need to be creating content which helps to draw the reader through the buying funnel.
Stage 1: Unaware
At this stage, the reader is unlikely to buy or convert, They have no awareness of any problem and therefore do not see a solution
Stage 2: Know the situation
The reader is know aware of the situation. Matt gave the example of being overweight and knowing that in order to lose weight, you need to run.
Stage 3: Product awareness
You need to run. What do you need to run? Trainers. This is when the reader has identified that products they need to start their journey.
Stage 4: Purchase intent
They know what the need, and now they intend to buy it.
Essentially we're picking people up at stage one with our content bu not carrying them through to stages two and three and just jumping straight to stage four. We need to be guiding the reader through these stages as this will not only help to ensure that the final purchase is made from you, but the likelihood is that they will also become a repeat customer.
How to Sell Through Content
Inform your audience.
The more aware they are, the more likely they are to buy.
Be in the right place at the right time.
Ensure your content covers all the different stages.
Matt rounded off his presentation by explaining that it costs five times more to acquire a new customer so it's worth your while to keep on pushing your customers through the funnel with added value content. Yes, they now have the trainers they need, but what about offering advice for correcting different running styles, or sending follow up emails for after care products? If you purchase an iPad, for example, you're unlikely to repeat buy that item, but a case or other accessories? These are where you continue to get value from your customers.
 Why Blogging Still Matters – Anne Ratigan (@Comic_Opa)
Your corporate blog provides you with the opportunity to  tell stories and connect with your audience. You get to put a human face to your brand and bring emotion in (Southwest, an American airline company have hit the nail on the head with their blog!) However, many companies are afraid that doing this will open them up to ridicule. This is wrong, and the benefits of personable blogging well outweigh the negatives. Anne covered several things you need to consider when blogging for your business.Whether you write them in house or hire a copywriter to put them together for you, you need to make sure you have the following in place:
An editorial style guide which covers everything from the correct title capitalisation to approved word lists (for example, 'great value' but never 'cheap').
An editorial calendar so you have a constant flow of projects and work and you can see where you're at with everything.
One of the things that stuck with me the most from Anne's presentation is, if  you're bored writing it, your readers will be bored reading it.
Post 1-2 times a week consistently and don't forget to post on social media.
Golden Rules for Working with Bloggers
Get to know bloggers and pitch them something they are passionate about.
Contact them how they want to be contacted whether it's Twitter, email, or good old-fashioned hand written letter!
Make sure your email subject line is attention grabbing or it'll be deleted.
How to Recruit a Copywriter
Has their CV got spelling mistakes? If so, bin!
Look for an evidence of passion for writing.
Ask all writers to do the same writing task so you can compare styles and quality.
And a final thought: Cheap copy will never be good copy. End of!
The Content Marketing Blueprint for Boring Industries – Mike Essex (@Koozai_Mike)
The final presentation of the day came from Mike Essex of Koozai. As an industry, we're obsessed with 'great' content, and tend to dismiss anything that isn't amazing. In his presentation, Mike wanted to celebrate the 'boring' content and explain why it's the biggest opportunity in content marketing right now.
Your content might be really exciting and look beautiful, but if it's not ticking these boxes:
Awareness
Consideration
Purchase
Service
Loyalty
then you probably need to rethink your strategy to ensure that the blog posts etc. are covering all of these. Everything you do should drive conversions. They might not win awards, go viral, or get links but they will help to drive conversions, which is ultimately what you need your content to do. As it's Koozai, you can find a transcript of Mike's presentation here and see all of the examples he gave.
After the conference was over, the Dome emptied out straight in to the Mash Tun pub (conveniently located right next door) for a few drinks. Well, we say a few: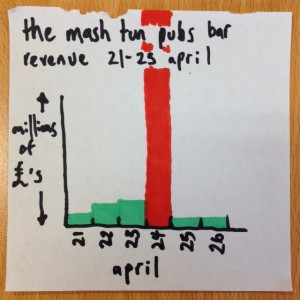 Unfortunately we were only able to stay for one as we had a train to catch back to Nottingham. Brighton, it was a pleasure and we hope to see you again soon!