Professionally Managed Social Media Structured to Deliver Tangible Results!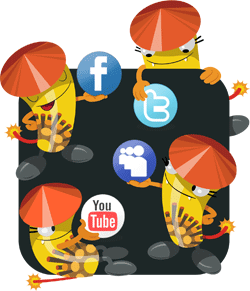 Measurable Social Media campaigns custom designed to engage with YOUR target demographic.
Grow your following.
Engage with your target audience.
Promote yourself as an authority figure within your industry.
Improve your visibility in the search engines.
Social Media isn't just about posting on Facebook and Twitter! A successful Social Media Campaign is meticulously planned like any other marketing campaign.
It is targeted specifically at your target audience and structured with the goals of growing your following, engaging with your target demographic, and pushing you and your brand as authority figures in your industry.
Boom's customised Social Media campaigns will also run hand in hand with your other online activity, complementing Search Engine Optimisation (SEO) and helping improve your visibility and rankings within the search engines.
One recent individual Social Media engagement campaign generated over 75 Tweets, 500 page visits and some juicy links from high authority sites in one day!
"Working with Boom is very enjoyable. They have unique creative ideas and ensure that you are updated with progress at all times.

They really work hard to understand your business from the start. Which enables them to deliver on what you require, providing the best service for you."
Vicki Copley, Your Holiday Wash
Call the Boom team now and start generating sales today! 0845 474 0974