Get More Sales From Existing Traffic Or We Give You Your Money Back!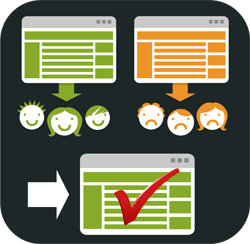 Why waste money on driving more traffic to your site when you can make your site work harder with the traffic you already have?
Increase sales by converting more visitors.
Generate more enquiries.
Fast & measurable results.
Guaranteed improvements.
Many companies keep ploughing more effort and thus more money into their marketing campaigns in order to generate more traffic. The smart people invest in Conversion Rate Optimisation.
Whatever your goals, Conversion Rate Optimisation will increase the revenue generated by your website. Whether you have an ecommerce store and want more sales, or you are a service provider and want more enquiries, Boom can help you achieve measurable results quickly.
In fact, we are so confident we can improve your site's performance, if we don't, we will give you your money back!
If your bucket had holes in it, you wouldn't keep filling it with water; you'd plug the holes and stop the leak.
One client invested in CRO at the design stage of their website rebuild and saw conversion rates soar from just over 3% to 10.6%; that's a 300% increase in revenue!
"We are a new lingerie business setting up websites for the UK and Spain and were delighted to work with Boom Online Marketing during the development of our site. They not only pointed out important features that should be included on the Home Page and where, but also got involved with the design of the site to make it SEO friendly. The fact that we had got them involved in the early stages of our development meant that the site has been built with conversion in mind.

Their involvement also meant that I learned a great deal and have a better understanding of their field. We at BL Lingerie are very satisfied customers."
Susan Stagg, BL Lingerie
Call the Boom team now and start generating sales today! 0845 474 0974