Negative Keywords You Might Need in Your PPC Account
Negative keywords are a godsend to all who manage PPC accounts – they're an efficient way to ensure that your ads don't come up for totally irrelevant search queries.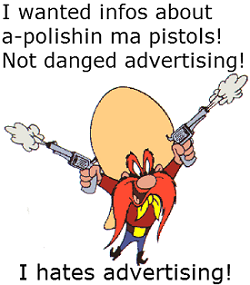 For example, did you know that "PPC" as well as being a cost effective advertising technique is also a type of gun? True story. PPC agencies who are running their own online advertising would then add terms like gun, guns and shooting as negative keywords to their campaigns to make sure that no gun-toting, ammo lovers come their way in search of tips on how to hit a bullseye in target practice.
So how do you go about finding negative keywords?
There's a ton of ways to do this research – from popping your keywords into the ever-popular Google AdWords Keyword Tool to using a thesaurus. Keri Morgret of SEOmoz wrote a great in depth post covering a whole host of ways to build your negative keyword lists that you should read for more ideas.
Or you could cheat.
There's a whole host of negative keyword lists freely available online and they provide a great starting point for any online advertiser, this one by Komarketing Associates is my favourite. But I haven't seen one yet that covers one important area: entertainment.
There are all manner of weird, wonderful and sometimes mundane terms that turn up as band names, in songs, as movie titles.
Just think of the poor door suppliers of the world, without a good negative keyword list, not only could their ads show up on searches for the band The Doors, but also songs like "Knockin' on Heaven's Door" by Bob Dylan and movies like "Sliding Doors" starring Gwyneth Paltrow.
While ideally you should do thorough research to weed out these searches, not everyone has time for that. So, I've created negative keywords lists of music, tv and film related keywords that you can use to help you avoid appearing for irrelevant searches:
Have I missed anything obvious? If so, let me know in the comments below.
How to Use Your Negative Keyword Lists
AdWords makes it easy to add standard negative keywords to all campaigns – simply click on the Campaigns tab then select the Shared Library from the menu on the right. Navigate to the Campaign Negative Keywords and click Add negative keyword list: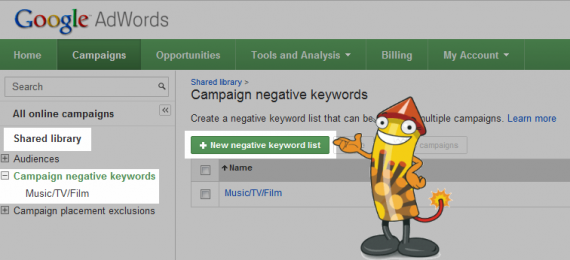 Name the keyword list something sensible – e.g. "Entertainment" – and copy and paste all the appropriate keywords from the lists above then hit save.
NB: Don't forget that this is a generic negative keyword list – always ensure that none of the terms are relevant to what you do before you add them as negative keywords, or you could inadvertently stop your ads from showing to the right people.
Now that your list is set up, you'll need to add it to all the campaigns that you want to exclude the terms from. Select the list you want to add to campaigns, then click Apply to campaigns. Click on all the campaigns you want to add the list to and hit save.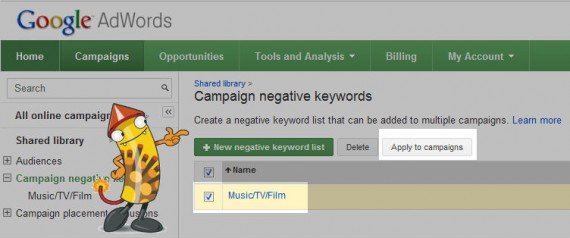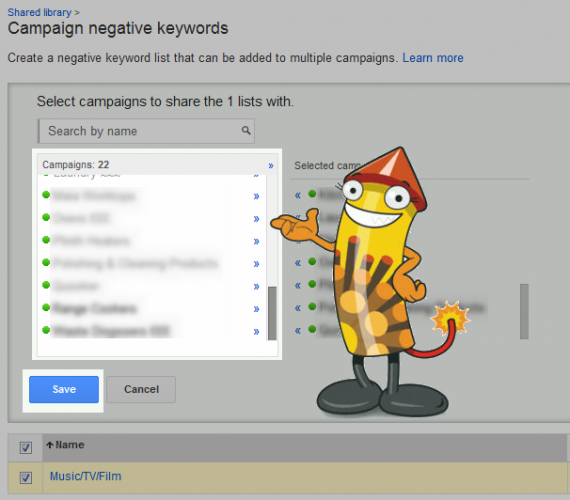 It's as easy as that!
Using standard negative keyword lists can help to reduce the number of irrelevant queries that your ads appear for, helping to increase your ROI. If you aren't already using them, now's the time to start.